MLSC's FY21 Annual Report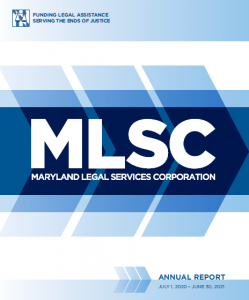 We are pleased to share Maryland Legal Services Corporation's annual report for fiscal year 2021. In the face of ongoing uncertainty, MLSC's nonprofit grantees kept adapting and moving forward to ensure low-income Marylanders could still receive much-needed legal services. Click here to open the annual report.
The impacts of the COVID-19 pandemic will be felt for years to come, and MLSC appreciates your partnership as we strive toward access to justice for all Marylanders.