Michelle Daugherty Siri to Join MLSC as Executive Director
Maryland Legal Services Corporation, the state's largest funder of civil legal aid, announced today that Michelle Daugherty Siri will join MLSC on October 30 as the organization's next executive director. Ms. Siri was chosen after a search performed by the MLSC board of directors.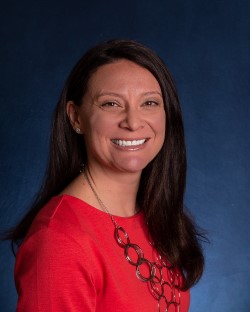 Ms. Siri currently serves as the executive director of the Women's Law Center of Maryland, a nonprofit organization that advocates for the physical safety, economic security and autonomy of women throughout the state through direct legal representation, information and referral services, and legislative advocacy. As a current MLSC grantee, Ms. Siri is very familiar with MLSC and its grantmaking.
"Michelle's expertise in both the civil legal aid system and advocacy landscape in Maryland makes her an excellent choice to lead MLSC," said Debra Thomas, chair of the MLSC board. "We are excited for MLSC's continued growth under her leadership."
"My work at the WLC has been profoundly rewarding. It has allowed me to grow personally, professionally, and intellectually over the past nine years in unexpected measure. I am excited to now bring my skillsets and passion for justice to MLSC, where the team has done a tremendous job in fulfilling MLSC's mission," said Ms. Siri. "I am humbled by the Board of Directors' faith in me and look forward to working with them and the staff on our collective vision of advancing access to justice and supporting the Maryland legal services community."
Prior to joining the Women's Law Center, Ms. Siri worked for the Social Security Administration, the Office of the Attorney General and in private practice. She holds a bachelor's degree from The College of William and Mary and earned her law degree with honors from the University of Maryland Francis King Carey School of Law.
Among other recognition, Ms. Siri received the Benjamin L. Cardin Public Service Award from the Carey School of Law in 2021 and has been recognized by The Daily Record with a Leadership in the Law Award and multiple Top 100 Women Awards. Ms. Siri served as the chair of the legislative subcommittee of the Delivery of Legal Services Committee of the Maryland Access to Justice Commission, and currently sits on the boards of the Greater Baltimore Medical Center, Maryland Bar Foundation and Maryland Network Against Domestic Violence.
Ms. Siri will succeed MLSC's current executive director, Deb Seltzer, who is relocating out-of-state. Ms. Seltzer will stay on with MLSC through Siri's start to ensure a smooth transition.
"I am thrilled that Michelle will be taking the helm at MLSC," said Ms. Seltzer. "Having worked with her as the leader of an MLSC grantee, I am confident that her experience and passion for access to justice will allow her to succeed in the executive director position."
MLSC's mission is to ensure low-income Marylanders have access to stable, efficient and effective civil legal assistance through the distribution of funds to nonprofit legal services organizations. Since the Maryland General Assembly established the organization in 1982, MLSC has made grants totaling over $376 million. MLSC grantees have provided services in more than 4 million legal matters concerning family, housing, employment and other civil legal issues.