MLSC Announces 2022 Award Recipients
Register to attend the November 14 MLSC Awards reception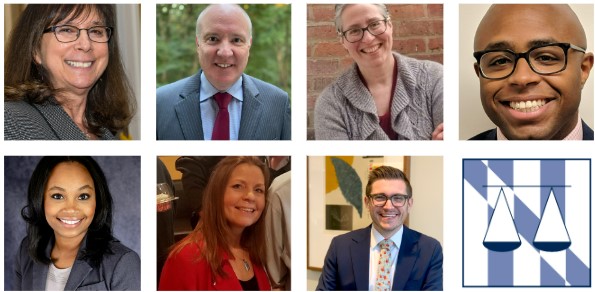 Each year, Maryland Legal Services Corporation brings together Maryland's legal services community to recognize people and organizations that have contributed significantly to the provision of legal services and access to justice for low-income Marylanders. MLSC is pleased to announce the recipients of its 2022 Annual Awards.
The Robert M. Bell Medal for Access to Justice honors members of the bench or bar who have displayed an extraordinary commitment to furthering access to justice for low-income Marylanders. This award, MLSC's highest honor, has only been presented on four previous occasions since its creation.
The recipient of the 2022 Bell Medal is Susan Erlichman, who retired in 2021 after a career of 32 years of service with MLSC, with 17 years as the organization's executive director. Over the years of Ms. Erlichman's leadership, MLSC's annual budget more than tripled, growing from $6 million to over $20 million, allowing MLSC to increase the number and size of its grants to meet an ever-increasing need across the state. Ms. Erlichman also helped to create a partnership with the Administrative Office of the Courts to build and grow Maryland's Judicare Family Law program. She was instrumental in developing collaborations with city, state and private agencies, resulting in innovative service delivery models, including embedding lawyers in workforce development projects to help remove barriers to employment. She led MLSC through extraordinary world events – from the Great Recession in 2008 to the early years of the COVID-19 pandemic – leaving MLSC in a stronger position than ever before to produce positive lasting results for Marylanders in need. Ms. Erlichman's dedication and advocacy on behalf of Maryland's civil legal aid delivery system will have positive impacts for years to come.
The Arthur W. Machen, Jr. Award is presented to an attorney or a judge who has demonstrated extraordinary commitment to increasing access to justice and improving the civil legal services delivery system for low-income Marylanders.
The recipient of the 2022 Machen Award is Frank Turney of the Law Offices of Frank E. Turney, P.A. Since 1999, Mr. Turney has been an active volunteer with MVLS, serving 146 clients, mostly with Chapter 7 bankruptcy relief or other debt-related issues. Going beyond standard pro bono commitments, he has provided training and mentorship to other attorneys, helps MVLS staff with tricky issues, and takes particularly challenging bankruptcy cases. In 2016, he helped MVLS launch a Bankruptcy Bypass Program to help seniors and others with debt relief in situations where bankruptcy is not a good option.
The Benjamin L. Cardin Distinguished Service Award is presented to an outstanding public interest lawyer whose career has been dedicated to providing, promoting or managing civil legal services to low-income Marylanders.
This year's recipient of the Cardin award is Kristine Dunkerton, executive director of Community Law Center, Inc. Ms. Dunkerton has invested 25 years at Community Law Center, starting as a staff attorney and spending 17 years as the executive director. She has spearheaded litigation and other legal strategies to combat vacant and nuisance properties; developed programs at CLC to fight predatory, deceptive, and discriminatory real estate practices, and to promote pro bono service to benefit nonprofit clients; drafted legislation including the Community Bill of Rights; taught law students; and served on numerous boards, committees, and commissions.
The Rising Star Award is presented to an attorney who has practiced law for 10 years or less and has significantly contributed to expanding access to justice by serving the civil legal needs of low-income Marylanders or advancing the delivery of civil legal services.
In this first in-person awards ceremony since the beginning of the pandemic, MLSC recognizes three outstanding attorneys with this award.
Timothy Chance, the Tangled Title attorney at Maryland Volunteer Lawyers Service, serves clients and supports volunteer attorneys in untangling the complexities that arise when a homeowner dies, and the heirs never successfully transfer title to the home. These expensive, lengthy cases are particularly devastating to the intergenerational transfer of wealth in communities of color, and Mr. Chance has educated legislators, the media and other attorneys, and supported a program that has served in nearly 1,000 estate planning, administration, and deed change cases in the past two years.
Anthony May, an attorney with the law firm of Brown, Goldstein & Levy, is known for his commitment to representing marginalized people, including school children with disabilities who were being subjected to inappropriate restraints as well as school staff with disabilities who needed accessible technology. Mr. May previously served as the Public Justice Center's Francis D. Murnaghan, Jr., Appellate Advocacy Fellow, where he argued in state and federal appellate courts on anti-poverty and civil rights cases. He has also served as president of the MVLS Community Advocacy Network.
Kayla Williams is a supervising attorney with Community Legal Services of Prince George's County. Hired to develop and manage the Tenant Representation Program, she has recruited, trained, and managed pro bono and staff attorneys who represent tenants in rent court dockets in multiple counties. A graduate of the MSBA Leadership Academy, Ms. Williams moderated a panel of judges addressing The Changing Face of Landlord & Tenant in a Post-Pandemic World at a recent MSBA conference. Respected by bar and bench, she has increased legal access for many in her community.
The William L. Marbury Outstanding Advocate Award is presented to someone who is not an attorney and has demonstrated outstanding service representing the civil legal needs of low-income Marylanders or expanding access to justice.
This year's Marbury Award recipient is Jacqueline Jones, longtime paralegal at Senior Legal Services in Baltimore. Ms. Jones joined SLS in 2010. In the past 12 years, she has touched the lives of clients, community partners, and attorneys alike, demonstrating genuine concern, empathy, and a commitment to serving every person with whom she interacts. MLSC received a blizzard of letters from current and former co-workers, professional colleagues, community partners, and lawyers, attesting to her years of creative, dedicated service; collaboration; home visits; clinics and programs; and generally serving as the glue within her organization across multiple directors.
To register for the 2022 Awards Reception, which will be held on Monday, November 14 at 6:00 pm at Westminster Hall in Baltimore, click here.