Governor Appoints Judge Nichols to MLSC Board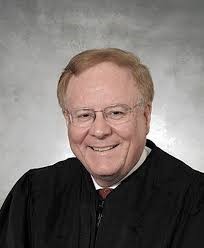 Governor Larry Hogan has appointed the Hon. C. Philip Nichols, Jr., of Prince George's County, to the Maryland Legal Services Corporation's nine-member Board of Directors.
Judge Nichols retired as the chief judge of Maryland's Seventh Judicial Circuit. He was appointed a judge of the Circuit Court in 1992. Prior to that, he served as judge of the District Court of Maryland and was twice elected a judge of the Orphans Court.
Judge Nichols also served as a captain in the U.S. Naval Reserve. During his 37 years of military service, he has had tours of duty as a general courts-martial judge and served as a member of the U.S. Navy-Marine Corps Court of Criminal Appeals, the service's highest uniformed court. Captain Nichols was the first reservist in the nation to be ordered to the Court twice for duty as an appellate military judge. He twice served as a commanding officer.
Since his military retirement in 2007, Judge Nichols has served as a fleet professor in the National Security Affairs Department of the U.S. Naval War College. He teaches Theater Security Decision Making to members of the faculty and staff at the U.S. Naval Academy earning their master's degrees.
Judge Nichols served as chairman of the board of directors of Dimensions HealthCare System and is the chair of the Patuxent District of Boy Scouts America. In 2019 he was elected chair of the Bar Associations Insurance Trust.
He received his A.B. from Georgetown University, his J.D. from the University of Baltimore School of Law, and his M.A. with highest distinction from the U.S. Naval War College.
MLSC's mission is to ensure low‐income Marylanders have access to stable, efficient and effective civil legal assistance through the distribution of funds to nonprofit legal services organizations. Since the Maryland General Assembly established the organization in 1982, MLSC has made grants totaling over $310 million to help provide services in nearly 3.5 million legal matters for Maryland's families in areas of family, housing, consumer, employment and other civil legal matters.