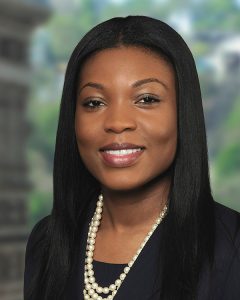 December 27, 2017, Baltimore, MD – Kaa Andam is the new IOLTA Compliance Manager of the Maryland Legal Services Corporation, which makes grants to nonprofit organizations that provide civil legal aid to low-income Marylanders. Andam will manage compliance by financial institutions and Maryland licensed attorneys with the Interest on Lawyers Trust Accounts program administered by MLSC.
Andam comes from a career in banking with a Master in Business Administration from University of Maryland University College and Bachelor of Science in finance from Salisbury University. Her most recent position was Vice President, Business Banking Relationship Manager, at PNC Bank in Rockville.
"We are excited to have Kaa join MLSC to help enhance relationships with financial institutions and the bar at a time when interest rates have begun to gradually improve. This translates directly into increased IOLTA revenue, enabling MLSC to strengthen its support of civil legal assistance to the most vulnerable in our state," said Executive Director Susan Erlichman.
MLSC was established by the Maryland General Assembly in 1982 to receive and distribute funds to nonprofit organizations that provide civil legal assistance to low-income persons. From its inception, MLSC has made grants totaling over $270 million to help provide services in nearly 3 million legal matters for Maryland's families in areas of family, housing, consumer, employment, health care and other civil legal matters. ###