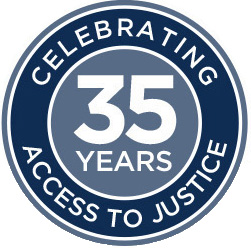 Legal services awards will be presented by the Maryland Legal Services Corporation to 10 recipients at an annual awards reception on Monday, December 4, 2017 from 6:00 to 8:00 p.m. at the Lord Baltimore Hotel, when MLSC will be celebrating its 35th anniversary.
The Robert M. Bell Medal for Access to Justice, named for the former chief judge of the Maryland Court of Appeals, was created in 2004 to honor members of the bench or bar who have displayed an extraordinary commitment to furthering access to justice for low-income Marylanders. MLSC will present this highest honor for only the fourth time since the award was established to Michael A. Millemann, professor of law at the University of Maryland Francis King Carey School of Law, for his decades of active involvement with access to justice initiatives as a public interest lawyer, former chief of the civil division of the Office of Attorney General, clinical law educator and a member of the first MLSC board.
Delegate Kathleen M. Dumais, a member of the Maryland House of Delegates and attorney at Ethridge, Quinn, Kemp, McAuliffe, Rowan & Hartinger, will receive the Arthur W. Machen, Jr. Award for her significant contribution to the legal services delivery system for low-income Marylanders as vice-chair of the House Judiciary Committee and through her family law practice. This award is given annually to a private attorney who has demonstrated extraordinary commitment to increasing access to justice and improving civil legal services to low-income Marylanders.
The Benjamin L. Cardin Distinguished Service Award recognizes an outstanding public interest attorney whose career has been dedicated to providing, promoting, or managing civil legal services to low-income Marylanders. The 2017 honoree is Sally Dworak-Fisher, staff attorney at the Public Justice Center.
The recipient of the Rising Star Award is Margaret K. Henn, director of the Home Preservation Project at the Pro Bono Resource Center. This award is presented to an attorney who has practiced law for 10 years or less and has significantly contributed to expanding access to justice by serving the civil legal needs of low-income Marylanders or advancing the delivery of civil legal services.
This year's William L. Marbury Outstanding Advocate Award, for a non-attorney who has demonstrated outstanding service representing the civil legal needs of low-income Marylanders or by expanding access to justice, will be presented to two recipients, Herbert N. Berkow, volunteer mediator in the Consumer Protection Division of the Office of Attorney General and Sandra A. Brown, executive director of Mid-Shore Pro Bono.
Saul Ewing Arnstein Lehr LLP has been named as this year's recipient of the Herbert S. Garten Public Citizen Award for its increased commitment to access to justice through a firmwide pro bono project and a partnership with many MLSC-funded organizations. The Garten Award honors an entity or organization not regularly engaged in the delivery of legal services to low-income Marylanders but has demonstrated an extraordinary commitment to increase access to justice.
MLSC will also present Awards of Special Recognition to Delegate Benjamin S. Barnes, Senator Guy J. Guzzone and Senator Bobby A. Zirkin for their leadership in the Maryland General Assembly to help stabilize and enhance funding for MLSC.
MLSC annually solicits nominations for its legal services awards throughout Maryland's legal community, including bar associations, legal services programs and other interested persons and organizations. MLSC was established by the Maryland General Assembly in 1982 to receive and distribute funds to nonprofit organizations that provide civil legal assistance to low-income persons. From its inception, MLSC has made grants totaling $270 million to help provide services in 3 million legal matters for Maryland's families in areas of family, housing, consumer, employment, health care and other civil legal matters.
Click here for more information about event registration and sponsorship.